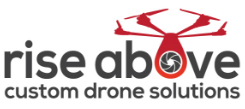 Add:
Rise Above Custom Drone Solutions
Unit 2, 40 Dunn Rd
Smeaton Grange, NSW, 2567

Web: http://www.riseabove.com.au/

Rise Above is an Australian Family run business with over 5 years of experience building, testing and flying commercial UAV's. Our dedicated and knowledgeable staff consists of RC Enthusiasts, Electrical Engineers, Computer Technicians and a friendly Sales and Support team.
Rise Above is an Australian Busines operating from within Australia, servicing the globe. We are the number 1 distributer for DJI products in Australia, and stock a range of products from other manufacturers including 3DR, T-motor, VulcanUAV, Aerialtronics, Gryphon Dynamics, and more.
Not only do we offer the highest quality products but we are your one stop shop for aerial services including Aerial Photography and videography, aerial inspection, mapping and surveying services, Marketing campaigns and more.